Akuvox C317S Smart Android Indoor Monitor (No Camera and no WiFi)
Description:
Akuvox C317S Smart Android Indoor Monitor (No Camera and no WiFi)
Akuvox C317S/W is a 10" Android indoor monitor which works seamlessly with a telecare pendant. It is typically used in the elderly's apartments and in mid- to high-end residences.
Camera and Wifi is included only in the C317W model.
At a Glance
Ultra-clear, stylish appearance
10-inch capacitive touch screen with energy saving mode
Built-in 1MP CMOS camera
Reception of a HD picture from the door communicator
Two-way audio communication with other units in the network
Complies with SIP standard for easy integration in every SIP capable PBXes
Powered by PoE or external source
Support US or European electrical wall box mounting
Tamper resistant design
Physical & Power
Front panel: Plastic
RAM / ROM: 2GB / 8GB
Display: 10 Inch IPS LCD
Screen: 10 Inch capacitive touch screen
Wi-Fi: IEEE802.11 b/g/n, @2.4GHz
Camera: 1MP camera, CMOS
Memory slot:1 Micro SD slot
RS485 port: Support
Relays out: 2
Bell in: 1
I/O: 8
Microphone: -58dB
Speaker: Dual speakers, 4Ω / 2W
Ethernet ports: 2xRJ45, 10/100Mbps adaptive
802.3af Power-over-Ethernet
12V DC connector (if not using PoE)
Tamper resistant: Support
Installation: Wall-mounted & Desktop
Dimension: 251x182.5x29.75mm
Working Humidity: 10~90%
Working Temperature: -10°C ~ +45°C
Storage Temperature: -20°C ~ +70°C
Touch Screen Display
Display Mode: Normally black, Transmissive
LCD Size: 10inch (Diagonal)
Aspect Ratio: 16:10
Resolution: 1280x800
Contrast ratio: 900:1
Luminance: 350 cd/m2
Viewing Angle: 80° Left, 80° Right, 80° Upper, 80° Lower
Touch Screen: Projected capacitive
Audio
SIP v1 (RFC2543), SIP v2 (RFC3261)
Narrowband audio codec: G.711a, G.711μ, G.729
Broadband audio codec: G.722
DTMF: In-band, out-of-band DTMF (RFC2833), SIP Info
Echo Cancellation
Voice Activation Detection
Comfort Noise Generator
Automatic Gain Control
Video
Streaming formats: H.263 & H.264
Networking
Protocols support: IPv4, IPv6, HTTP, HTTPS, FTP, TFTP, SNMP, DNS, SNTP, RTSP, SRTP, RTP, TCP, UDP, TLS, ICMP, DHCP, ARP
Deployment & Maintenance
Auto-Provisioning
Web management portal
Web-based packet dump
Configuration backup / restore
Firmware upgrade
System logs (include door access logs)
Application Scenario
Villas
Apartment complexes
Home automation systems
Modern interiors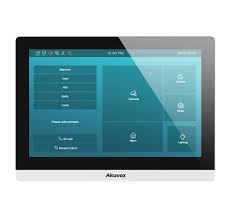 Alternatives
Budget-friendly 7" Android Indoor Monitor.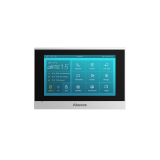 | | |
| --- | --- |
| Manufacturer: | Akuvox |
| Code: | C315S |
Akuvox C312 is a touchscreen audio indoor monitor. It is typically used in multi-bedroom homes where only audio communication is required.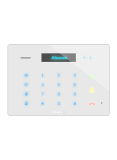 VP-R48G is a SIP-based, gigabit IP video phone for businesses of various scales featuring a 7" touch screen, a 2M CMOS camera sensor and Android Operating System.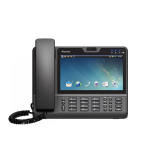 | | |
| --- | --- |
| Manufacturer: | Akuvox |
| Code: | VP-R48G |